Building of the Month
Why is a particular building special to you? A personal connection, an interesting story or a fine example of its type? The Building of the Month page is a chance for you to show your favourite building to a wider audience. If you would like to submit a Building of the Month for publication please send your text to: niah@chg.gov.ie. Your building should be included in the NIAH Building Survey and texts should be 450-800 words. The NIAH reserves the right to edit a text and to decide whether or not to publish it.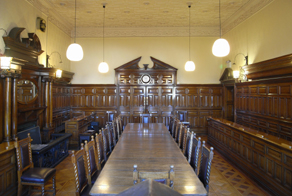 Building of the Month
January 2019
11 Parnell Square, Dublin 1, which has enjoyed an eclectic history as the home of a parliamentarian and peer, the clubhouse of a debating and social club, the headquarters of a county council and, more recently, the offices of a variety of arts, culture and heritage organisations. Read more...