Building of the Month - November 2011
Church of Saint John the Baptist (Donanaghta), Church Lane, Eyrecourt, EYRECOURT DEMESNE Td., County Galway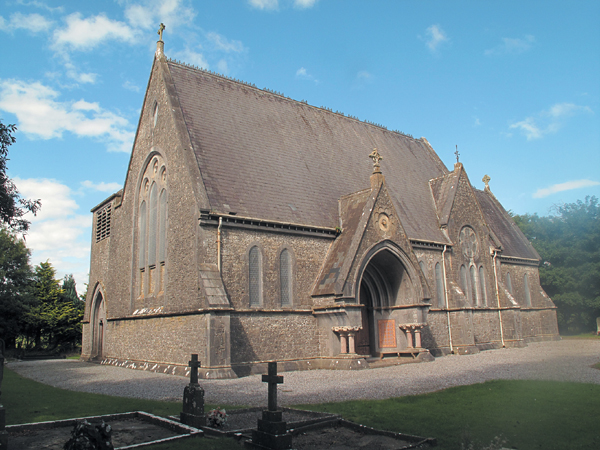 Figure 1: A photograph of the new church at Eyrecourt designed by William Edward Martin (1843-1915) of Dublin showing the unfinished tower adjoining the West Front
The village of Eyrecourt was founded in the seventeenth century by John Eyre (1640-85) who built for himself Eyrecourt Castle, one of the key houses of Irish architectural history. The village is graced by the Church of Ireland church of Saint John the Baptist (fig. 1). Designed by William Edward Martin (1843-1915), built in 1867, and consecrated in 1868, the church served as the parish church and was also accessed directly from the demesne. The exterior of the building is notable for the elaborate canopied porch with its low support columns and coloured tile panels (figs. 2-3). The false "transepts" to the long walls add further interest.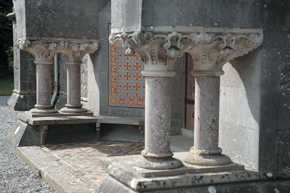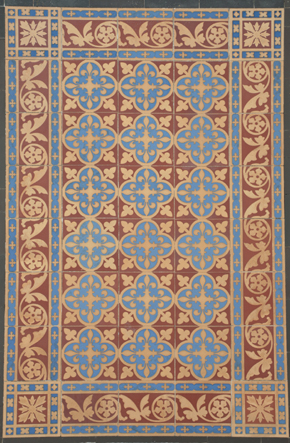 Figures 2-3: A detail of the squat columns supporting the canopied porch and the Pugin-esque encaustic tile work panels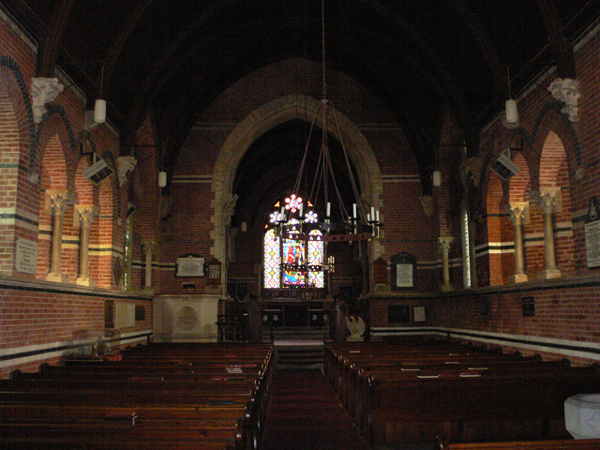 Figure 4: A view of the red brick-lined interior showing a collection of Classical wall monuments dedicated to members of the Eyre family of Eyrecourt Castle and the jewel-like "East Window" (1867) attributed to Franz Mayer and Company (founded 1847) of Munich and London
The interior is particularly sumptuous with many well detailed finishes and decorations in carved stone, brass and timber (fig. 4). The colours of the brick walling and of the other materials combine to make a memorable experience for the visitor. Other excellent estate churches in County Galway can be seen at Woodlawn (1874) and Kylemore Abbey (1877-81). The last named is the most accessible of the three churches.
Barry O'Reilly, NIAH Architectural Heritage Officer
Figures 1-3 photographed by Nutan Photography for the NIAH publication An Introduction to the Architectural Heritage of County Galway