Building Of The Month - March 2011
Francis Bindon (d. 1765)
Francis Bindon was one of eight children born to David Bindon MP (d. 1733) and Dorothy (née Burton) of Clooney House, County Clare. His exact date of birth is unknown. The Bindons owned a considerable amount of land in Counties Clare and Limerick. Likewise, the Burtons controlled the Ennis Parliamentary Borough for much of the eighteenth century. In 1723 Bindon's father assigned the family estate at Clooney to him and he retained the house and lands for the remainder of his life. Also, although resident primarily in Dublin, he subsequently held the position of MP for Ennis.
Bindon established himself as a painter in Dublin and received a number of significant commissions for portraits, his clients including such noted church leaders as Archbishop Hugh Boulter (1672-1742); Archbishop Charles Cobbe (1686-1765); Thomas Sheridan (1687-1738); and Dean Patrick Delaney (1684-1768). Bindon's most famous works include the portraits of Dean Jonathan Swift (1667-1745), author of Gulliver's Travels (1726), and Turlough O'Carolan (1670-1738), the so-called "blind harpist". The latter portrait, only recently attributed to Bindon, hangs in the National Gallery of Ireland as is believed to be the only surviving painting of O'Carolan.
As was fashionable among the gentry in the early eighteenth century, Bindon travelled throughout Europe on a "Grand Tour", studying Classical art and architecture. On his return to Ireland Bindon turned his hand to country house architecture.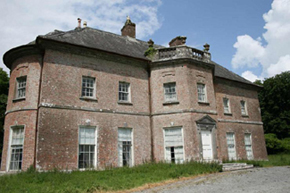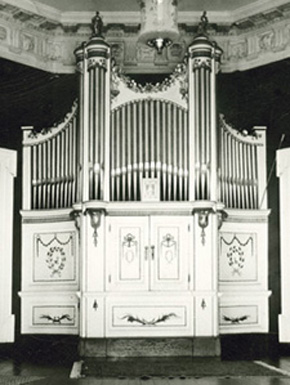 Figures 1-2: A view of Newhall House, NEWHALL Td., County Clare, the house erected for Colonel Charles MacDonnell MP (1736-73) refronting an earlier house known as Killone Abbey. While the openings on the first floor retain their original, near-square proportions, those on the ground floor were "dropped" in the nineteenth century. The centrepiece, a balustraded half-octagonal breakfront, is expressed internally as an octagonal entrance hall dominated by a mildly eccentric cupboard in the guise of a Baroque-style organ case. Courtesy of Clare County Library
Two houses in County Clare have been attributed to Bindon: Newhall House (figs. 1-2) and Carnelly House (figs. 3-5), both near Ennis and the latter built for his brother-in-law George Stamer. Both houses are distinguished by the extensive use of red brick in the construction, an uncommon building material in Ireland at the time: that the earlier Mount Ievers (1732-7) also features a similar construction supports the theory that a small-scale brick works was in operation in the region. Newhall House, erected for Colonel Charles MacDonnell MP (1736-73) refronting a much earlier house known as Killone Abbey, is also enlivened by its balustraded polygonal centrepiece, expressed internally as an octagonal entrance hall: meanwhile, the principal apartments are defined by elegant bows.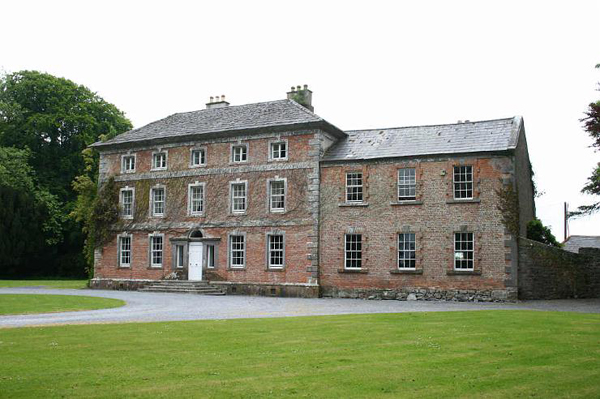 Figure 3: A view of Carnelly House, CARROWNANELLY Td., County Clare, the property of the Stamer family until 1866 and the birthplace of Sir Peter "The Packer" O'Brien (1842-1914), one-time Lord Chief Justice of Ireland (appointed 1888)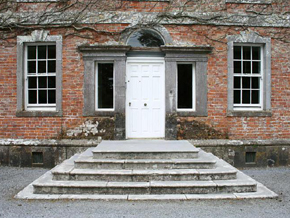 Figures 4-5: A view of the elegantly restrained tripartite doorcase of the entrance front and the comparatively robust doorcase opening from the entrance hall into the staircase hall. Courtesy of the Irish Architectural Archive
The principal block of Carnelly House brings to mind the contemporary Woodstock House (1745-7), Inistioge, County Kilkenny, built for Sir William Fownes (1709-78) (fig. 6). A near-square country house, arranged around an open courtyard or light well, the entrance front boasted a handsome tripartite centrepiece with a Gibbsian doorcase at ground floor level, the windows overhead framing a statue-filled niche at first floor and an oculus on the second floor. Woodstock House was subsequently extended (1804-6) with lateral wings producing a neo-Palladian footprint. Burnt during "The Troubles" (1919-23), however, the house survives today as a forlorn ruined shell.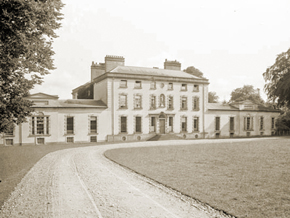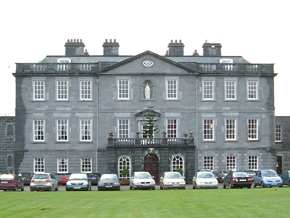 Figures 6-7: A sepia-tinted photograph of Woodstock House, INISTIOGE Td., County Kilkenny, prior to its destruction during "The Troubles" (1919-23) and the much-modified Bessborough House, now Kildalton College, KILDALTON Td., presenting a three-storey façade in lieu of the original two-storey over raised base frontage
Bindon has also been cited as the architect responsible for Bessborough House (1744-55), Piltown, County Kilkenny (fig. 7). Although dramatically remodelled to fulfil its present function as Kildalton College, the original appearance of the house can still be discerned, presenting a substantial rectilinear block centred on a pedimented breakfront, the principal floor elevated as a piano nobile on a robustly rusticated base.
The intimacies of eighteenth-century Irish architecture are well demonstrated by Bindon's architectural connections. Bindon collaborated with Richard Castle (d. 1751) on at least two projects, the first of which was the now-ruined Belan House (1743), County Kildare. Castle had previously worked with Sir Edward Lovett Pearce (d. 1733) whose aunt, Anne Coote, had married Bindon's brother Samuel in 1716.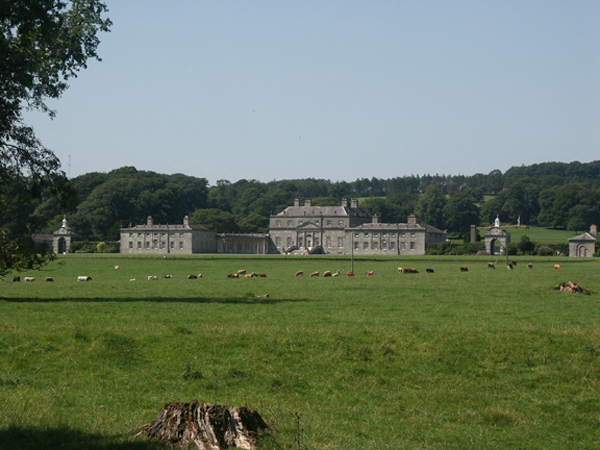 Figure 8: Lauded as 'arguably the most beautiful house in Ireland', Russborough House, RUSSBOROUGH Td., County Wicklow, is believed to have completed by Bindon following the death of Richard Castle in 1751, an attribution supported by Bindon's obituary in Faulkner's Journal (1765)
Bindon's second project with Castle, Russborough House (1741-52), County Wicklow, is widely regarded as one of the first Irish neo-Palladian country houses and has been described by Mark Bence-Jones as 'arguably the most beautiful house in Ireland' (fig. 8). Commissioned by Joseph Leeson (1701-83), first Earl of Milltown, it is assumed that Bindon completed the unfinished house after Castle's death in 1751. Internally, the rich Baroque plasterwork has been attributed to the renowned Lafranchini Borthers, Paulo (1695-1770) and Filippo (1704-79).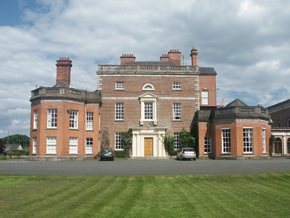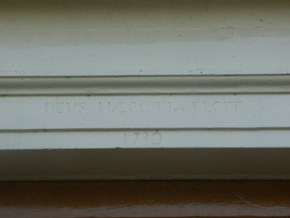 Figures 9-10: A view of Clermont, NEWRATH Td., County Wicklow, the core of which has been compared to Furness (1731), County Kildare, and described as the archetypal early eighteenth-century Irish Palladian house. The pillared doorcase is inscribed: "Deus Hæcotia Fecit/1730 [God Has Made This A Place Of Rest/1730]". Although substantially remodelled at the turn of the twentieth century the original interior has survived largely intact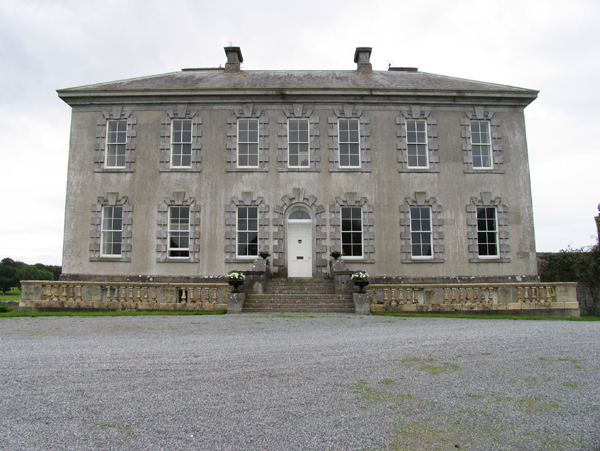 Figure 11: Sopwell Hall, SOPWELL Td., County Tipperary, erected (1745) for Colonel Francis Sadleir (1709-97), recalls the contemporary Bonnetstown Hall (1737-8) in neighbouring County Kilkenny, the architect for which is unknown
Other works attributable to Bindon include Clermont (1730-1), County Wicklow (figs. 9-10); Sopwell Hall (1745), County Tipperary (fig. 11); and Alta Villa (1745-6), County Limerick (fig. 12).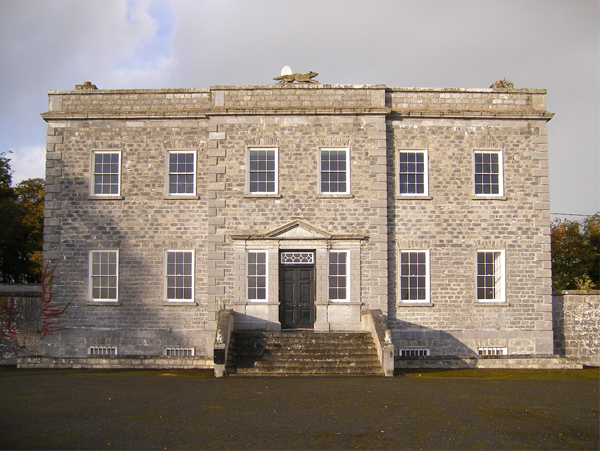 Figure 12: Alta Villa, ALTAVILLA Td., County Limerick, erected (1745-6) for John Bateman (d. 1792), makes overt references to Palladian Classicism and shows a central block linked by curtain walls to pavilions enclosing courtyards. Burnt in the twentieth century, and thereafter reduced to ruins, the house was restored by Edward Greenall (1902-90), second Lord Daresbury, but without the third floor
Also in County Limerick is John's Square (1751), a small development of eight townhouses in Limerick City (fig. 13). Each house, treated as part of a symmetrical composition alongside its immediate neighbour, is distinguished by the construction in coursed limestone, the simple doorcase, the Classical proportions, and the shared central niches overhead.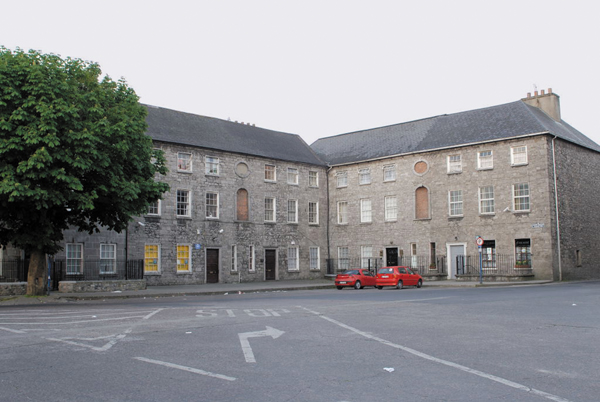 Figure 13: Erected (1751) as a speculative venture by Edmund Sexton Pery (1719-1806), later Speaker of the Irish Parliament, John's Square is composed of eight houses forming three sides of a square, each pair centred on a red brick-lined niche and oculus
Bindon died suddenly in 1765 'in his chariot on his way to the country'. An obituary notice in Faulkner's Journal (1765) described him as 'one of the best painters and architects this nation ever produced. He was a most polite well-bred gentleman and an excellent scholar, which he improved with his travels abroad'.
I am privileged to call him my ancestor.
Geoff Arnold Holloway, Botany Bay Family History Society