Building of the Month - April 2009
Saint Colman's Church (Farahy or Farihy) and Farahy School, FARAHY Td., North Cork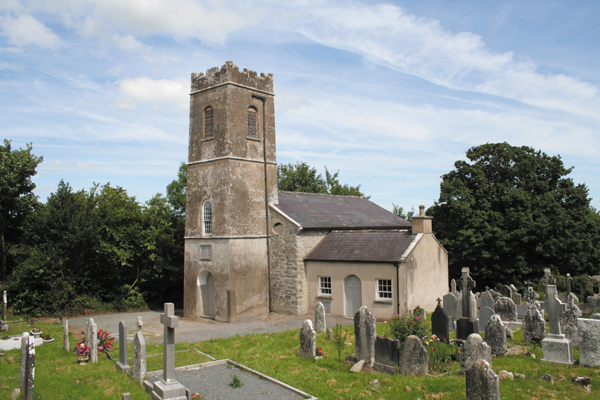 Figure 1: A view of the church described by Samuel Lewis (1837) as 'a plain building with a tower surmounted by a small wooden spire…now undergoing a thorough repair, for which the Ecclesiastical Commissioners [reorganised 1833] have recently made a grant of £317…' (Lewis, Samuel, A Topographical Dictionary of Ireland Volume I (1837), p.613)
Farahy, on the Mitchelstown to Mallow road in North Cork, is perhaps best known for the eighteenth-century Bowen's Court (1776; demolished 1960) and its most famous resident, the writer Elizabeth Bowen CBE (1899-1973). Just inside one of the gates to the estate is Saint Colman's Church (Farahy Parish) and, attached to its south wall, Farahy School (fig. 1). The two buildings stand in a typically picturesque undulating graveyard approached by a mature tree lined avenue.
The church, a rare example of an early eighteenth-century rural Church of Ireland church, is a single cell structure with an entrance tower projecting from the west gable end and a round-plan apse opening from the east end. Only an oval recess either side of the tower enlivens an otherwise very plain rubble limestone structure. The tower is given the appearance of being higher than it is by its battered walls, wider at the base than at the top, and by stringcourses between each stage. The church has fine round-headed windows which give the building a simplified Classical appearance with a Georgian Gothic touch introduced by the ogee-profiled tracery glazing bars. The interior is also quite plain with an apsidal chancel lit by a stained glass "East Window" (fig. 2). A doorway in the tower opens into the attached school, the latter now in use as a vestry.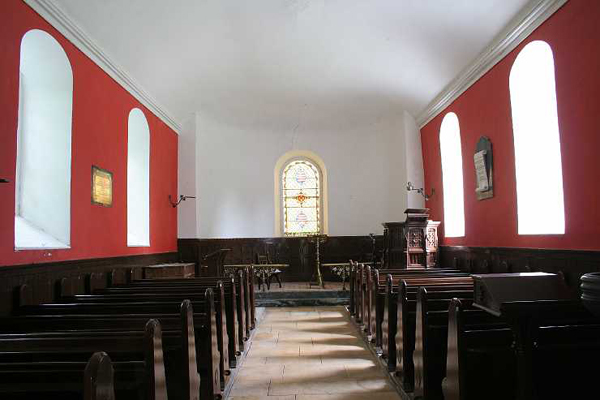 Figure 2: A view of the interior looking towards the apsidal chancel with its stained glass "East Window". Having fallen into disrepair in the later twentieth century, and at one time threatened with demolition, the church was restored under the direction of Professor Anne Crookshank with a thanksgiving service given by Dr. George Simms (1910-91), Archbishop of Armagh (fl. 1969-80), on Saint Luke's Day, 18th October 1979
The school building is so simple that it could be of any age. Reminiscent of a sexton's "cottage", it is single storey and only has openings in its front wall. The date stone informs us that Mrs Elizabeth Bridges of the City of London had the school built in 1721 for the 'instruction of the poor children of the parish' (fig. 4).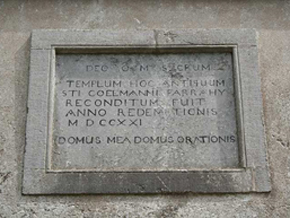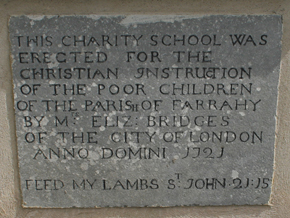 Figures 3-4: Two date stones record the provenance of the church and school: "Deo [Illegible]/Templum Hoc Antiquum/Sti Colemanni Farrahy/Reconditum Fuit/Anno Redemptionis/MDCCXXI [1721]/Domus Mea Domus Orationis" and "This Charity School Was/Erected For The/Christian Instruction/Of The Poor Children/Of The Parish Of Farrahy/By Mrs. Eliz: Bridges/Of The City Of London/Anno Domini 1721/Feed My Lambs. St. John 21:15"
Click here for the record for Saint Colman's Church (Farahy)
Click here for the record for Farahy School
All photography by Shannon Images from the NIAH publication An Introduction to the Architectural Heritage of North Cork