Building of the Month - April 2014
Millar's Harp House, BALLYDANGAN Td., County Roscommon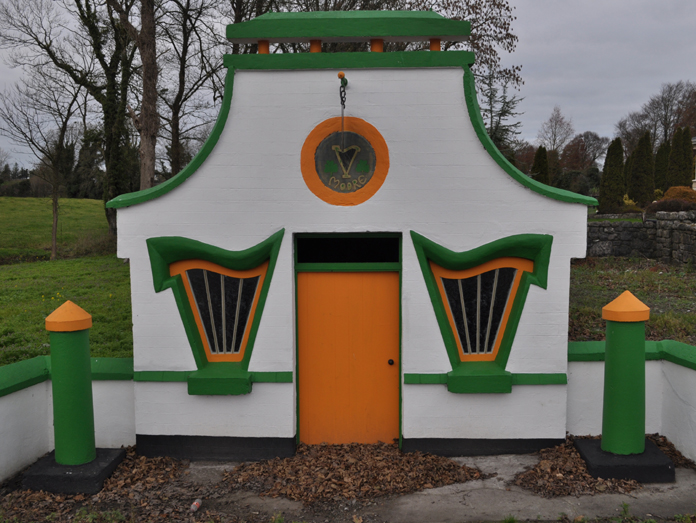 Figure 1: A photograph of the eye-catching Millar's Harp House following its restoration in 2013. Photograph by Padraic Kilduff
Millar's Harp House, a landmark on the old N6 in Ballydangan, County Roscommon, has recently been restored to its former glory. Also known as "Millar's Ice Cream Shop" or "Millar's Sweet Shop", the small but eye-catching building was erected as an ice cream parlour by Paddy Millar in close proximity to his main business concern, a public house.
The arrival of an ice cream parlour to the locality would no doubt have been an exciting event. Local people remember the thrill of the prospect of an ice cream after a hard day's work on the bog. The ice cream arrived from Dublin and, carefully portioned, was placed between crisp wafers and sold as an ice cream sandwich. Each "sandwich" cost 6d or six old pence. At one time the ice cream parlour was a more popular attraction than the public house and several local girls were employed by Millar. Later, however, the ice cream parlour closed and Millar's Harp House reopened as a butcher shop. Local people remember the long queues outside the shop on Saturday evenings.
However, it is its unique physical features that have placed Millar's Harp House on the architectural map of Ireland. The distinctive harp-shaped windows, designed and executed by Paddy Millar himself, symbolise a nationalist pride while the colour scheme of green, white and orange alludes to the Irish flag.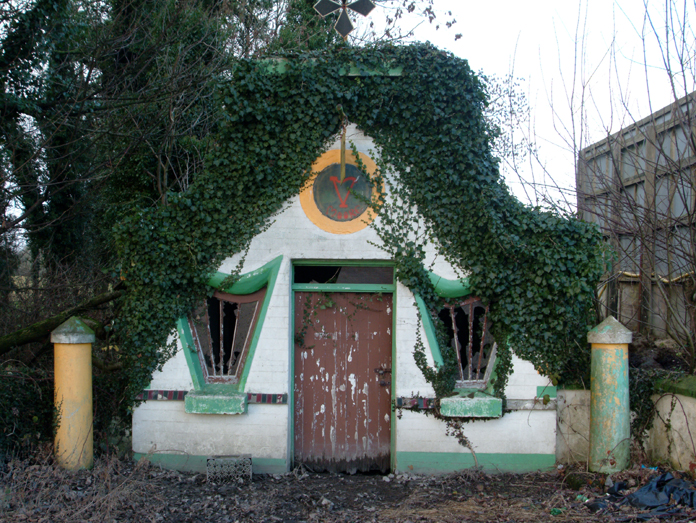 Figure 2: A photograph showing the derelict Millar's Harp House in 2003. Remarking on the shop, Eve McAulay described Millar's Harp House as '[an] idiosyncratic mid twentieth-century structure [and] a celebration of Irishness. The style, which appears to have been influenced by contemporary modern design, is elevated by unusual harp-shaped windows, colourful tiles, and bright paintwork'. Photograph by Roslyn Byrne
Millar's Harp House closed its doors to the public in 1970 and fell into dereliction. When inspected by the National Inventory of Architectural Heritage in 2003 the harp-shaped windows were broken, the sweeping parapet was overgrown, and the interior had become entangled with ivy. To mark the Year of the Gathering in 2013, and helped in no small way by Robert Finn, Martin Greene and Derick O'Brien, Moore Community Council undertook a thorough restoration of Millar's Harp House by reglazing the windows, removing the ivy, repainting the walls and clearing the site.
It is no exaggeration to say that Millar's Harp House is probably the most photographed building in the locality and numerous tourists passing on the Dublin-Galway road stop to admire this eye-catching landmark.
A NEW LANDMARK by Jimmy Kenny
If you ever pass by Millar's Tavern, and your sight is very sharp
You will see a nice small cottage, with a window like a Harp
It has now been decorated and looks better than before
It was once a little local shop that became a Butcher's store
It was built one hundred years ago, and is made from stone and sand
The site was small close to the road, the work was done by hand
It is shaded from the sunlight and is sheltered by the trees
On a hot day it's like Heaven with a cooling from the breeze
I'm sure that our forefathers would have funny tales to tell
Of the hard times with no money when the shop had things to sell
So if your ever come on holidays and you want a Pint of Dark
You can park at Millar's Tavern and view our very own Landmark
Marie Monaghan, Padraic Kilduff and Jimmy Kenny are members of Moore Community Council, which includes the townland of Ballydangan. A version of this Building of the Month was first published in the yearly parish magazine Moore News in December 2013.